Consolidated Plan for Southwestern Utah

Consolidated Plan for Southwestern Utah

DRAFT
One-Year Action Plan
for the period July 1, 2020 - June 30, 2021
DRAFT
Consolidated Plan
for the period July 1, 2020 - June 30, 2025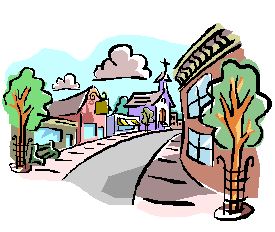 The Five County Association of Governments Consolidated Plan reports housing, homelessness, community development, economic development, and other special needs in southwestern Utah. The Consolidated Plan is a document required to be developed and adopted in order to remain eligible for federal funding through the U.S. Department of Housing and Urban Development (HUD). Staff from the Community & Economic Development program at the Five County Association of Governments work diligently to prepare the Annual Action Plan (annual update of the Consolidated Plan), as well as the Consolidated Plan rewrite every five years.
The updated draft plan is presented to our governing body, the Steering Committee of the Five County Association of Governments, for their approval. The Consolidated One Year Action Plan covers all of the HUD Non-Entitlement areas (municipalities with less than 50,000 persons and counties less than 200,000 persons) in Southwest Utah. HUD Community Development Block Grant (CDBG) funding is available to eligible entities in the five southwestern Utah counties: Beaver, Garfield, Iron, Kane and Washington through the Utah Small Cities Community Development Block Grant Program.

The Consolidated Plan 2020-2025 (Five Year Plan) is a draft that will be presented to our governing board for adoption. Additionally, the Consolidated One-Year Action Plan July 1, 2020-June 30, 2021 will also be presented to them to become an adopted plan.

The Consolidated One Year Action Plan is a newly prepared document which currently is in draft status. That document can, and will, be revised, if needed, based upon comments. It will be presented to our Steering Committee, for final adoption with any revisions, at its March 11, 2020 meeting.


The 30-day public comment period begins February 1, 2020 and ends March 2, 2020. If you have any comments or suggestions for the Consolidated One-Year Action Plan, they need to be provided to us during the public comment period to be considered.

Please see the links to the new DRAFT Plans below. You can click on the Plan images or the link below the images: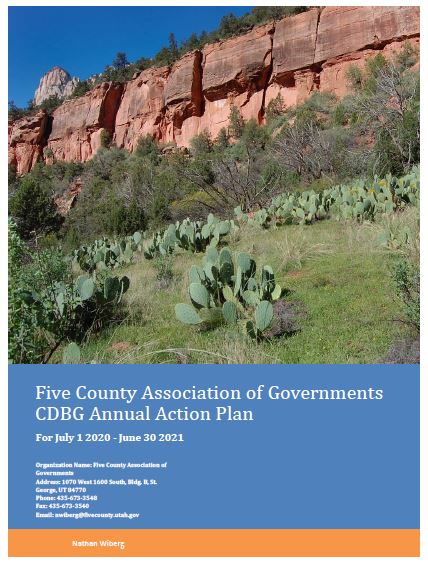 CLICK HERE>>> ANNUAL ACTION PLAN (PDF FILE)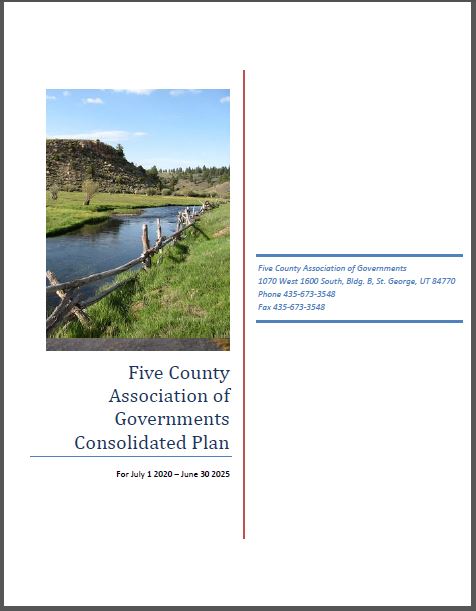 CLICK HERE>>> 2020-2025 CONSOLIDATED PLAN (PDF FILE)
HOW TO SUBMIT COMMENTS:


Questions, concerns, or comments on the Five County Association of Governments' "DRAFT One-Year Action Plan July 1, 2020 - June 30, 2021" and the "DRAFT 2020 - 2025 Consolidated Plan" may be submitted verbally or in writing to Nate Wiberg, Associate Planner, telephone: (435) 673-3548 ext 105. Mailing Address: P.O. Box 1550, St. George, Utah 84771-1550. Or you may send him an e-mail to the following e-mail address:
nwiberg@fivecounty.utah.gov
Click Here for a Map
showing the five county geographic area of southwestern Utah covered by the regional Consolidated Plan (PDF file)
---
Special note regarding the City of St. George:
Because its U.S. Census population is greater than 50,000 persons, St. George City is a HUD Entitlement City and as such is no longer in the Small Cities CDBG program. Because of its Entitlement City status, it is responsible for preparing its own Consolidated Plan and receives a HUD CDBG funding allocation directly from the federal government. For information on St. George City's CDBG program please see the City's Community Development Block Grant page on the web at:
https://www.sgcity.org/administration/formsandapplications/communitydevelopmentblockgrantcdbg
Didn't find what you were looking for? Try these links...