Consolidated Plan for Southwestern Utah

One Year Action Plan for Southwestern Utah

ADOPTED DOCUMENT
One-Year Action Plan
for the period July 1, 2022 - June 30, 2023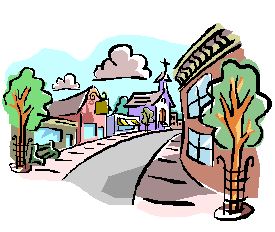 The Five County Association of Governments (FCAOG) has completed the 2022 Five County Annual Action Plan Report, which is a plan which describes the Five County community development and planning efforts, priorities for the upcoming fiscal year, and identified needs in the region. It details community engagement and outreach efforts conducted by the FCAOG to move community development projects forward. The Report prepared by Five County staff will be used by the State Housing and Community Development Office to compile a statewide 2020 Annual Action Plan.
A thirty-day public comment period commenced on January 28, 2022 and ended on February 27, 2022. The Annual Action Plan details the Five County Region's community development and housing needs and priorities, as well as strategies to meet those needs and priorities. Drafts of the Five County Annual Action Plan were available to the public during the public comment period and are posted below. The 2022 State of Utah Annual Action Plan will be available for review and comment in the Spring of 2022.
A public hearing for the Five County Annual Action Plan was held on Monday, February 28, 2022 to address comments received during the comment period. The hearing was held at the FCAOG offices, FCAOG office located at 1070 W. 1600 S., Bldg. B, St. George, UT 84770 in the large conference room. It was also available via a video conference link.
IMPORTANT!: The final draft plan was presented to the Steering Committee (our Governing Board) who approved the Report at their March 9, 2022 meeting in Cedar City.
Further information may be obtained by contacting Alyssa Gamble, Community Planner 435-673-3548, ext. 117 or at her e-mail address:
agamble@fivecounty.utah.gov
Please see the links to the adopted Annual Action Plan below.

You can click on the Plan image itself or the link below the image: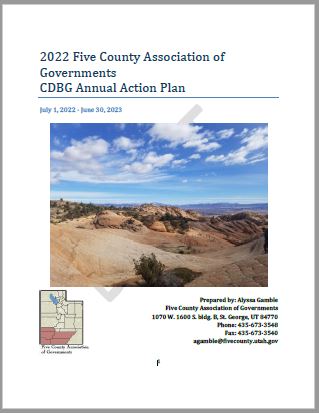 CLICK HERE>>> ANNUAL ACTION PLAN (PDF FILE)
Click Here for a Map
showing the five county geographic area of southwestern Utah covered by the regional Consolidated Plan (PDF file)
---

Special note regarding the City of St. George:
Because its U.S. Census population is greater than 50,000 persons, St. George City is a HUD Entitlement City and as such is no longer in the Small Cities CDBG program. Because of its Entitlement City status, it is responsible for preparing its own Plan and receives a HUD CDBG funding allocation directly from the federal government. For information on St. George City's CDBG program please see the City's Community Development Block Grant page on the web at:
https://www.sgcity.org/administration/formsandapplications/communitydevelopmentblockgrantcdbg
Didn't find what you were looking for? Try these links...