What is the Five County Association of Governments?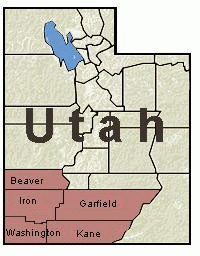 Summary:
The Five County Association of Governments encompasses over 11 million acres of land in southwestern Utah. The Association serves 37 municipalities (incorporated cities and towns), five county-wide school districts and the county jurisdictions of Beaver, Garfield, Iron, Kane, and Washington.
Association's Vision:

The Five County Association of Governments staff excels in facilitating the development and
delivery of programs assigned by local officials to assure southwestern Utah remains a premier
region in which to live, work and recreate.
Association's Mission Statement:

The mission of the Five County Association of Governments is to Plan, Prepare and Partner with federal, state and local governments to strengthen the role of southwestern Utah local officials in the execution of state and federal programs at the local level.

Issues/Problems Being Addressed:
The Five County Association of Governments provides professional staff expertise to local elected and appointed officials for the purpose of aiding in the development and implementation of effective decision-making process. The overall purpose of the Association is to provide a forum to identify, discuss, study, and resolve area-wide planning and development concerns. The Association provides assistance in Community and Economic Development, Transportation Planning, Small Business Financing, Aging Programs, Human Services Planning, and Job Training.
Office Location(s):
Please Click Here for pictures and maps of our office locations in St. George and Cedar City, Utah.


Governing Body:

The governing body of the Association is the Steering Committee which includes a county commissioner, a mayor, and a school board member from each county as well as ex-officio representation from Southern Utah University and Dixie State College. Please
click here
to view the names of the current Steering Committee members as well as view the agenda for the next Steering Committee meeting and the annual meeting schedule.
Technical Resources:
The Association has ties to many agencies including the Economic Development Administration, Census Bureau, EPA, the Utah State Governor's office of Planning and Budget, the State Department of Community and Economic Development, the Utah State Department of Natural Resources, and others.


Brief History and Present Status:
The Five County Association of Governments was formally established in 1972 under the provisions of the Inter-local Cooperation Act of 1965. However, local officials had been meeting informally to promote tourism and economic development since 1958. The Association serves as an official Economic Development District, and shares common boundaries with the Color Country Resource Conrservation and Development (RC & D) group, as well as the Cedar City District of the Bureau of Land Management (BLM).


Funding Sources:
The Association operates on funding allocated from numerous federal and state contracts, matched with local government contributions.


Administration Contact:

Bryan D. Thiriot, Executive Director
1070 West 1600 South, Building B
St. George, Utah 84770
Phone: (435) 673-3548, extension 121
Fax: (435) 673-3540
e-mail:
bthiriot@fivecounty.utah.gov