You may qualify for help to reduce your heating and cooling costs!
Get the Weatherization Application
HERE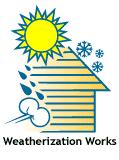 The U.S. Department of Energy's Weatherization Assistance program is the nation's core program for delivering energy efficiency services to low income households. Professionally trained weatherization crews perform on-site home energy audits using state of the art equipment to identify outside drafts and inspect heating and cooling systems for efficiency.

Weatherization crews install insulation, seal off air leaks, make modifications to (or replace) existing heating systems and make minor repairs to ensure safety.

Once installed, these energy saving measures will help to reduce your heating and cooling costs for years to come.
Weatherization measures are delivered to single-family homes, multi-family dwellings, and mobile homes.
The Home Weatherization Program is a federal program locally administered by the Five County Association of Governments and managed by the Utah Department of Community Development/Office of Energy Services. It is designed to help residents-who meet federal low-income guidelines-lower their utility bills and improve the comfort of their homes.
The Five County Association of Governments administers this program in the five southwestern counties of Utah:
Beaver, Garfield, Iron, Kane and Washington.




What is Required from you:



A completed Application Form

Proof of Ownership of Home (Property Tax Statement, Mortgage statement, Homeowners Insurance Policy, Property Deed, Mobile Home Title, etc.)

Proof of Income for month prior to application date (Please provide a copy of check stubs or bank statement and proof of participation in HEAT program if this applies).

12-month Fuel History from your electric and gas company (You must request this information from your utility companies).

Completed Billing History Release Authorization Form.

Renters Agreement (if you are a renter, this is not included- you must request one from our office).
Upon eligibility, an energy audit is performed on your house to determine what measures can be taken to make your home more energy efficient.
Some typical measures include:
Heating safety and efficiency inspection

Installation of walls, attic, or floor

Weatherstripping and caulking

Replacement of broken windows

Water heater jackets

On-site home inspection to determine energy loss
Please note that this is not a home remodeling or home rehabilitation program!



If you are interested in this program please download the application and return it and all other necessary information to the address listed below.

There is no cost for this program. However, due to the large amount of applicants there may be an extended waiting period.

If you have any questions, please contact our office.



Write, call, fax or e-mail:




Five County Association of Governments
2344 W. Industry Way #2
Cedar City Utah 84721
CALL TOLL FREE: 1-888-503-5321
(435) 586-0585
Fax (435) 867-8374
e-mail: weatherization@fivecounty.utah.gov